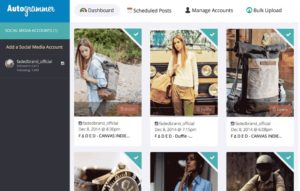 Instagram might be one of the several social media outlets for most people, but it is definitely one place where your posts can make a difference. Whether you are trying to promote a service, product, idea or simply developing a fan following for your stardom, the images and filters that this social media platform offers makes it compelling and exposure is guaranteed with this channel.
Posting on Instagram
You might not think much about uploading pictures and messages on Instagram but for those who use it to market and create exposure for their product, campaign or service, it is important to catch the attention of their targeted customers segment as well as build the interest and fan following through this channel. For these reasons Instagram is known to be invaluable. The audience base is younger for this channel as compared to other platforms like Facebook or Twitter. For these reasons, you need to hold the attention of your fans and followers by posting regular updates. One way of doing so is by using an Instagram scheduler for scheduling posts at regular intervals. That might be challenging, especially if one has to do so on a regular basis. Scheduling tools make this task easier. One such tool is AutoGrammer.
How it works?
The scheduling tool frees you from having to manually upload updates on Instagram all the time. If you wish to engage your followers or provide updates on an occurring event, the scheduling tool frees you from being chained to your laptop or desktop in order to upload pictures and posts from time to time. Till date all scheduling tools are designed for use through mobile devices. That is where AutoGrammer comes of use as it helps you to schedule updates from your computer.
Functions of AutoGrammer
The tool has several features such as:
It helps you plan what you wish to share and in advance.
It will automate the post uploads which will save you from having to do so manually.
You would also be able to schedule Instagram posts, uploads on multiple accounts.
There is a free trial version offered, through which potential customers can judge the functionality of the tool.
How you will benefit?
The tool is easy to use. All one needs to do is add the Instagram accounts they wish to manage with the tool. One would need to specify the image resolution details as well as choose options like cropping when an image is being uploaded. There are effects that can be used on the images as well. Once you have edited and planned out the posts and images to be uploaded, one can select time zones and set a schedule.
Points to note
The tool is easy to comprehend. However, setting the time zone might be a bit confusing at first, especially related to different cities. The first upload might fail due to security features activated by Instagram. You need to verify your account with the tool in order to get the uploads approved. The tool comes with a nominal fee that is worth it as it allows you to do bulk uploads as well as manage multiple accounts.